The story of Dan Cake
Reaching for the stars and creating a half moon
Creamy swiss rolls, tasty sponge cakes, delicious muffins and the Original Lemon Half Moon cake are just a few of the many cakes we offer. It gives you a good impression of the diversity that we have achieved through innovation and with firm grounding in Danish baking traditions throughout three generations.
1931
In 1931 Dan Cake was founded by Jens Eskildsen in a small town called Simmelkjaer a bit north of Give. Jens had big dreams and with hard work he succeeded in creating a healthy business.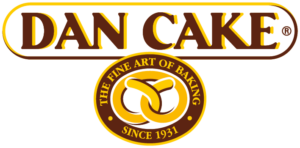 1959
In 1959 it was necessary to establish better production facilities and the bakery was moved to a new location in Give. That was the start of a bigger and more industrialized production.
1966
Not even ten years after the first move the company had grown to a size that demanded more modern production facilities. The result was a brand new factory on Kornvej in Give.
The orders kept coming and at the time it was considered a very big industrial production – and success.
1968-1972
 In 1968 the production of half moons started and only a couple of years later it was joined by the swiss roll. They quickly became a success and today the Half Moon Lemon and the Strawberry Swiss Roll continues to be a favorite.
Cakes were now not just the preserve of bakery shops, and children and adults alike could enjoy cakes for many different occasions.
1978-1984
In 1978, the company was still growing and the decision was made to build the current factory at Hjortsvangen in Give.
The following years saw continued growth and in 1984 the second generation, Erling Eskildsen, sold the factory to Foods Trends in England.
1990
The good growth continues for Dan Cake and leads to the establishment of additional sales and production facilities abroad, including two bakeries and distribution in Poland. And in 1998, Dan Cake Russia was established.
2004
After some years as a part of a foreign company an investor group, including a Danish Company called Givesco, purchased Dan Cake in 2004. 
A company, which is directed by Erling Eskildsen, and he then returned to the company he created with his father.
Today
Today, we stand strong as a company with more than 90 years of experience in the food industry. The 'recipe' remains the same: 'good raw materials and products in combination with healthy core values'.
Today we stand strong as a company with over 90 years of experience within the food industry. The 'recipe' is unchanged: 'Good quality raw materials and products along with sound core values'.
It is important and necessary that we keep developing new products. This is also why every year we participate and visit food fairs around Europe. We collect inspiration and create new relationships abroad. All in an effort to continue to give the consumers the very best taste- and quality experience.
Dan Cake is now run by the 3rd generation.
Danish craftsmanship since 1931
Homemade fruit fillings and creams
Icing according to your own recipe
Natural colours and aromas
A new twist on the well-known classics - tips & tricks for your cake table
Get inspired by our universe of recipes
Ready to give a new lease of life to your cake table with exciting variations on classic favorites? We've gathered a number of creative tips and tricks to breath new life into your traditional cakes. Turn your cakes into subjects of conversations by adding unique combinations of flavours and decoration.
Let us explore the amazing universe of possibilities and inspire your next cake experience!